A tribute to the fantastic and uncontrollable elements of our existence, by director Marc Schmidt.
Only in sleep you can escape the logic of daily life. By forgetting and dreaming. But what if your sleep is so intense that it disrupts your daytime life? 'In the arms of Morpheus' is a quest into the beauty and cruelty of sleep. An irrational world that we cannot control, but that can control us. Roselien is always tired and falls asleep everywhere. There is an effective medicine but at what cost? Emily is plagued by apocalyptic nightmares and aggression during her sleepwalking. A ritual seems to offer a solution. Their stories are interwoven with a poet who spends her nights wandering through Brussels, a mother with a lifelike sleep paralysis and a musician with loud explosions in his head. One man has a dreamless sleep for no more than two hours and a waking life remains. Are you the person you are in your sleep, or the person you are when you are awake? Is your daily life a consequence of how you got through the night or is your nightlife a processing of your daily existence?
The logic of the dream outweighs the reality of the documentary as 'In the arms of Morpheus' gradually turns into a stimulating mosaic of radical sleep experiences; true-to-life observations containing strange elements and a conversation which takes place in a dream of a burned-out house. In an era in which efficiency and control are paramount, Marc Schmidt brings a cinematographic ode to the absurd and elusive sides of our existence.
We have no control over what happens in our head at night. - Marc Schmidt
About the director
Marc Schmidt is a director of documentary films. His films qualify by connecting a direct and emotive approach with philosophical reflections. Besides making films, he's mentoring graduate students at UCL's Master of Ethnographic & Documentary Film (London, UK) and gives masterclasses, workshops and coaching.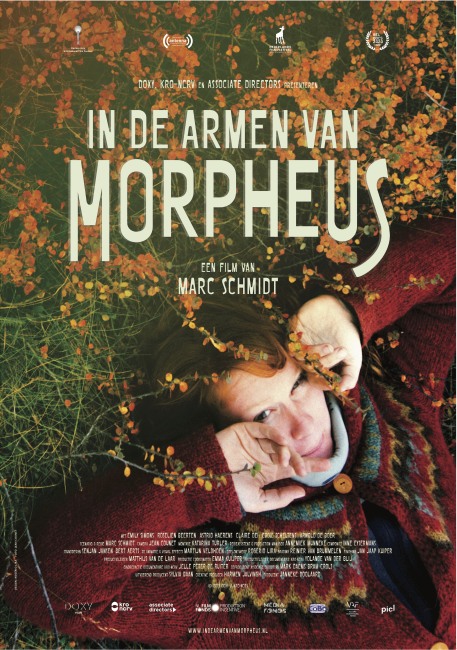 Credits
Directed by Marc Schmidt
Writer – Marc Schmidt
Editor – Katarina Türler
Dop – Jean Counet
Sound – Marcel de Hoog, Benny Jansen
Music – Inne Eysermans
Awards & festivals
Karlovy Vary International Film Festival (CZ)
Nederlands Film Festival (NL)
Noordelijk Filmfestival  (NL)
Antenna Film Festival Sidney (GR)
Beldocs Int. Documentary Film Festival, Belgrado (SRB)
Gdansk Docfilm Festival (PL)
Production details
Duration: 82'
Co-produced with KeyDocs (NL)
Supported by Flanders Audiovisual Fund (VAF) and Netherlands Film Fund
In coproduction with KRO-NCRV
Language: Dutch
Subtitles: English, Dutch